TGIF!!! So I looked at the 5QF sneak peak last night and wasn't really interested in too many of the questions then, but when I read some of the other participants answers today I caved, it's just such a fun meme, and so addictive!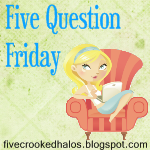 1.
If you were free to just hop in the car and drive, where would you go? Or, if you could hop a plane and go anywhere, where?
I pretty much always want to go to Colorado- it's my home, I love it there, I can't think of too many things I dislike about it. It's anywhere from a 6-10 hour drive depending on what part I am going to, so there you go!

For flying, that is more challenging. This is about the time of year I went to Hawaii, and it was wonderful there, so maybe I would fly to Hawaii and lay on the beach for a week.
2.
What's your most recently read favorite book?
I haven't read a book in a while, I am a blog and mag reader, but I am currently reading The Book Thief for a book club that I am a part of. I am about half way through it and it is a good, easy reader. It's just incredibly sad because it is set in Nazi Germany, and hard to wrap my head around what it would have been like to have lived under those conditions. It's a captivating story though, and I am enjoying it.
3
.
What's your favorite Spring Break memory?
Well, I mentioned that I went to Hawaii about this time of year, which happened to be the spring break of my senior year of high school. My oldest brother took me for my graduation gift and it was a great trip. I even got to meet country star Tracy Lawrence as he was on his honeymoon and at the same luau that we went to.
In collge I had two notable spring breaks. One of them I went with an old friend from high school and her boyfriend and his two buddies to South Padre Island, Texas. It was cool because my brother used to go there for his spring breaks and it was kind of a right of passage for me. Instead of staying at a resort we borrowed my brothers pop-up camper and stayed at a campground, so it was pretty fun and inexpensive. The other I went to Las Vegas with one of my BFFs. It was a crazy trip, but a lot of fun too!
It's too hard to pick my absolute favorite out of those 3.
4
. W
hat do you put in your child's Easter basket? Or, for those w/o kids, what was put in your childhood basket?
Here is my Easter post from
last year
, and here is my post from
2010

.
I put in a few toys and a little candy, since Austin was pretty young still. We will probably do a bit more candy this year and we are talking about a basketball hoop for our backyard (not actually in the basket, LOL)since he is really into basketball right now and playing at the park involves us lifting him up to the height of the basket. I will probably also do a new Veggie Tales video, some bubbles and a kite.
As a kid my basket was mostly candy and maybe one toy. My sister is 15 years older than me and she would help fill my basket. She liked to torment me and put Whoppers in my basket, and the good chocolate in hers so I would have to trade her since I hate malt balls. I remember one year getting a Trivial Persuit game, but that is the only toy that stands out in my memory.
5. Do you get a summer haircut?
No, I don't really cycle my hair with the season. My hair grows fast, so I usually let it grow out pretty long and then when I get tired of it I have it cut short, but it doesn't correspond to a season. Twice I have donated my hair to Locks of Love and once to Beautiful Lengths. It was short when I had Austin, but I think I will leave it long for when I have this baby. Right now it is pretty long and about to the bottom of my shoulder blades.