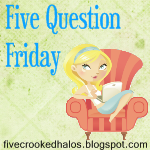 1.
Are you looking forward to the time change this weekend?
Heck no, and I don't even change time. I live in Arizona so we do things right and keep our time the same year round. But then it's the challenge of figuring out how everyone else changes, and we live on the border with Utah and near to Nevada, and both of them honor DST, so we are always having to consider which time zone we are traveling too.
2. A
re you getting the new iP

ad

/would you want a

iPad

?
No, I am not planning to get a new iPad. Those things are so skinny and flimsy looking. My three year old would get ahold of it and it would be demolished in less than 5 minutes. If I was going to invest $500 I would get a new desktop computer that has the firewire port I need so I could upload video from my video camera. I didn't know what it took when we bought this laptop, and it does not have the right port, so all of my video of Austin is still captured on the DV tapes.
3. I
f money was not a problem, what is the one thing you would

splurge

on?
I would buy a ranch. It would be nice to know where we will end up when my husband does get a new job, but if I knew that I would buy us a big 200+ acre spread with a big ranch house and barn.
4.
How did you and the Mr. (or Mrs.) meet?
We met in college, although we went to different rival universities. I was in an ag sorority and he was in an ag fraternity. One of the girls in my sorority's real life brother was in Dustin's fraternity and he would bring down a group of his friends every so often to go out and eat and then party with his sister's friends since the city we lived in was considerably bigger with more available to do. We hung out a few times in a mutual group of friends and then one night at a party had a personal conversation and hit it off from there.
5. S
ummer

is right around the corner. Bikini or one-piece?
That is an interesting question considering I am currently almost 18 weeks pregnant. When I was pregnant before the seasons were opposite, so I barely had a bump during summer, but this summer I will be confused as a whale at the pool. I currently have a two-piece tankini, and I think it will probably fit over my growing belly, but I might have to get a special maternity suit and if I do I will probably get a one piece.