TGIF, really I am SOOOO ready for the weekend!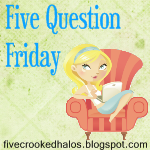 1.
Would you prefer having people over for dinner or going to their house?
I like both and don't really have a preference.
2. Favorite Bible verse and why?
I don't really focus on verses, so I will go with my favorite story in the Bible. I really like the book of Ruth and think her story is so inspirational. She is such a loving and compasionate person that even though she lost everything and could have been selfish and run away to start over she stayed to care for her mother-in-law and humbled herself to do servant work to support them. In the end she was recognized for her vertue and ended up in an awesome place.
3. What was the first concert you ever attended, and the most recent one?
My first concert was the New Kids on the Block when I was 11. I was in a terrible car accident and broke my right femur. My sister recognized that I needed an incentive to stick with my physical therapy so she stood in line at 4:00am in the freezing cold to get us tickets and said we could go so long as I could walk there myself. It was a great motivator and I would listen to their music on my walkman while I did my physical therapy workouts.
My most recent concert was last summer, my husband wanted to go and see Soundgarden and they played at Red Rocks Amphitheater in the Colorado foothills. My Mom watched Austin for us and we went to dinner in Blackhawk then to the concert and it was so awesome!
4. The year is 2025. What are you doing, and what have you done?
Lets see, that is 13 years from now, Austin will be 16 (oh crap!!!) and baby girl will be 12. I think I will be busy running around with my kids and trying to keep up with their super busy schedules. What have I done? Hopefully by then I will be living somewhere else and will have gotten my teaching certificate and will be teaching high school science.
5. What's your favorite Easter treat?
Reece's peanut butter eggs, yum! I am so excited that one of the blogs I visited today for the A-Z Challenge had a recipe for homemade peanut butter eggs, yes I will be making some this weekend and can't wait!!!