Okay, I am ready for my Sunday break from the A-Z Challenge, so I am going to punt today and make my L word LIST for my 5QF LIST. Luckily I finished my "M" a while ago, so I have that post scheduled for tomorrow.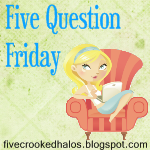 Mostly Dustin mows the grass, but once and a while I pitch in. I actually enjoy it.
2. D
o you have a picture wall or picture gallery in your house (show us! <--- my addition to the question)?
I do have a picture wall in my home, it goes down our hallway. I have been meaning to re-do it though so I am not going to share a picture on this post. Some of my family came to visit a couple of weeks ago and the kids were disappointed to see their pictures from two years ago in my frames. They did technically send me their photos last year, but since I planned to change the frames I never put up the new photos, and well, time marches on! One of these days I will get it done.
3.
What book has influenced your thinking the most? Or, what blog? (I want to read what gets people thinking!)
Hmmm, that is a tough one! I guess in reality the book that has influenced my thinking the most is the Bible. All my core values come from church teachings, so even though it for some reasons seems cliche to say it, it is true.
4.
Do you have allergies? If so, how do you handle it this time of year?
Unfortunately yes I have terrible allergies. Being pregnant just amplifies it too and my sinuses have been so stuffed the last month. I regularly use a neti pot to rinse my sinuses and clear the junk out. I also use Flonase nasal spray.
5. W
hat's your go to meal to cook in an hurry?
Our go-to meal is frozen pizza. We always have a DiGiorno or Freschetta in the freezer and it doesn't get an easier than turning the oven on and throwing one in. No, it's not delivery, we don't have that luxury here 20 miles past the middle of nowhere!