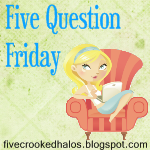 1.
Would you grow your hair out to donate it?
I have done this three times already, twice to Locks of Love and once to Beautiful Lengths. I will send off my ponytail this time when I finally decide to cut it too, probably to Beautiful Lengths again.
2.
What song makes you think of summer?
I have a lot of songs that make me think of summer, the first ones that come to mind:
Summertime- Will Smith

Centerfield- John Fogerty

Chattahoochee- Alan Jackson
Fishin' in the Dark- Nitty Gritty Dirt Band
County Fair- Chris LeDoux
3. Are you a
flip flops or sandals kind of person?
I could go either way, but I suppose I tend to go more with flip flops.
4. F
avorite summer treat (ie ice cream, snow cones, etc)?
Popsicles!
5.
Do you do something special for the father of your children on Fathers day?
I try to do something to make him feel special. I have a gift and card, but am not giving the details as I am not sure that he won't read this. This year I am thinking of taking us all to Lake Powell to go swimming and then out to either lunch or dinner depending on how the swimming goes.