Phew (wiping my brow in relief), thank goodness it is Thursday night and I survived my crazy week (over 600 miles later) of driving to the big city and beyond three days in a row. It looks like I may be headed back on Saturday since we had to leave our pickup at the shop for a transmission rebuild, oh yes almost $3,000, but at least it will be back to a great truck again. And yay, I have a four day weekend since I always take Fridays off and next Monday is Kaibab Paiute Tribal Establishment holiday!!!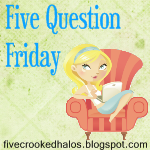 1. D
id you do anything special for your kids on the last day of school? Or did you parents do anything special for you?
My little man is three and still in a preschool/daycare, so no summer break for him since I don't get summer break.
I can't really remember anything special or a tradition associated with the last day of school as a kid.
2. W
hat's your favorite summer tradition with your children?
Definitely going to the pool, there is no better way to beat the heat here in Arizona.
3.
What was your favorite thing to do during the summer as a kid?
I can't think of one favorite thing above all else. I loved summer swim lessons even though we had an indoor pool. I also loved attending the summer enrichment program that my school district put on in the summer for a fee you could take fun classes like art, drama, reading, science, etc. for a couple of weeks during the summer. We would go camping and fishing a lot during the summer which was fun. I also loved helping my Dad in his garden during the summer, and of course eating all the yummy fresh produce.
4.
How old were you when you were married? Were you a Bridezilla?
I was 26 when I got married, but my 27th birthday was the following weekend. I was definitely not a bridezilla, I am very easy going.
5. W
hat is your favorite girl name? (I'm needing suggestions.)
CONGRATS SANDY! I am so excited for you even though I know you are proud of your MOB card! So okay, we have also been working on girl names too, and guess what? We think we finally agreed on THE ONE!
Drum roll please.....
Kaitlan Grace
We may tweak the spelling a bit, but we are pretty sure we like it and will either call her Katy or Kate. It still works in my middle name of "Ann" thus the different spelling. The other spellings I could see us doing is Kaitlann, Caitlan, or Caitlann, what do you think?
So for you Sandy here is the list we were working from:
Shelby
Megan
Melanie
Miranda
Kendra
Tiffany
Andrea
Hannah
Morgan
Chelsea
Melissa
And even though we of course weren't considering it, Sarah is a great name that is all wonderfully biblical and strong!