It's Friday, head over to Mama M's for some 5QF fun!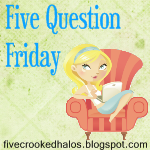 1. What have you done recently that you are proud of?
Well, in the grand scheme of things I had a hand in creating this little peanut who is growing in my tummy, and that is pretty exciting for me. I am proud to try my best to give this kiddo the best start in life by not smoking or drinking and eating healty including taking my vitamins and drinking gallons of water. I need to work on more exercise!
For a short term accomplishment, I am pretty proud of how Austin's 3rd birthday cake turned out. I am a hobby cake decorator and I free handed it.
2.
What is your favorite way to work out? Or if you don't workout, what are you wanting to try?
I love pilates, I love how it works all muscles and you really feel it all over. I need to get a maternity pilates DVD

.
3.
If you knew you best friend was cheating on spouse would you tell?
I would like to think I would just keep my nose out of it. I also would think a person wouldn't tell on their best friend, but would if the spouse were cheating on the friend.
4.
If you could afford a live-in maid or nanny, would you have one?
Probably not a nanny, but a maid would be awesome! Heck, I would be happy with an occasional house cleaning service. I think I will do better with it when I am a SAHM after having our second baby. When I do go back to work I think it would be nice to have a house cleaning service, but it will depend on where we live.
5.
Do you stress out about birthdays (specifically the age) or do you enjoy them?
I don't worry about age, so birthdays definitely don't stress me out. Every year I seem to be happier and happier, so I enjoy the fact that I am now the person I have worked so hard to be and can enjoy the benefits of my efforts.
Have a great weekend!