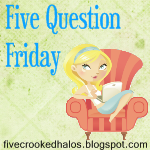 1. Do you prefer cotton, silk, or flannel sheets?
I love really comfortable sheets of all material. My favorites were a set we got as a wedding gift and they were sateen, so super soft, but not shiny like satin. Sadly the fitted sheet got ripped, but I still use the pillowcases with another sheet set that matches the color.

2. What time zone are you in?
Mountain STANDARD, always...no daylight savings for me :)
3. What is your favorite part of the holiday season?
I think being with family and the whole ambiance that Christmas brings. I love that feeling, it's the pinnacle of the year.
4. What is your favorite "wintry" drink? (It doesn't have to be an "alcoholic" drink!)
I love eggnog, but I also love my mother-in-law's apple cider:
3 cups of cranberry juice
Add all the ingredients and simmer for at least 10 minutes, remove all the spices, then keep warm in a crock-pot, awesome for parties! I'm sipping some at the moment!
5. In your opinion, what is the worst job in the world?
I have a coworker who is in social services and he is being ostracized for a decision he made concerning the welfare of a child. I think that would be incredibly difficult and emotionally exhausting, to try to make a difference and make the world a better place and be shunned for it.