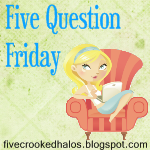 It is Friday and time for some 5QF fun, head on over to Mama M.'s and play along!
1. D
o you prefer your ice cream in a bowl or in a cone?
I really love ice cream cones. The only time I like a bowl is if I am going to add toppings- chocolate syrup, caramel, hot fudge, etc. I like all kinds of cones from plain cake cones to fancy chocolate dipped waffle cones, YUM!!!
2.
What three things do you love the smell of?
Lilacs, roses, and anything baked with cinnamon.
3. G
iftcards
or no? (In regards to gift giving...)
You know, I have been battling this out in my head lately. I am so a gift person, I think it adds value to the gift to put thought into what to give, or better yet hand make part of the gift. BUT...I live far, far, far from my family, and my husband's family too for that matter, and I have been shipping gifts and always seem to spend almost as much on shipping as I do the gift. So I am strongly considering gift cards or cash for Christmas for the nieces and nephews this year.
4. W
hat sports did you play in high school if any and do you still play them?
I participated in track and field from 7th through 12th grade. My specialties were throwing the discus and shot put. I also ran some and enjoyed the 400m dash.
I played basketball my sophomore year and hated it, so that was the end of that.
I swam my senior year because my track and field throwing coach was also the swim team coach and she said it would get me in great condition for T&F. She was right, and I also LOVED IT! I so wish I could go back and do swim team all four years.
No, I don't throw discuses or shot puts anymore, I avoid running because my knee is all jacked from a car accident. I do go swimming, but not competitively. Once and a while I do some laps and practice the breast of butterfly stroke just for fun.
5. Were you in band in high school? What instrument did you play?
Yes, I was a band geek. I started playing the clarinet in band in sixth grade. Somewhere along the lines I started playing percussion and played that strictly in marching band. My freshman year our percussion won the Colorado State 3A Championship. I also tried out for and got on the Blue Knights Percussion Ensemble which was a feeder group for the Drum and Bugle Corps. We won the National Percussion Ensemble Championship in Dayton, Ohio the year that I was on it.
We got a new band instructor my junior year and he was a newbie teacher and messed everything up so I had enough and quit my senior year. Did I miss it? Not for a second!