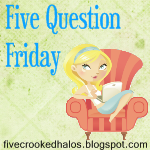 1.
Did you make any fun purchases this week?
I really live in the middle of nowhere so I don't go shopping much, especially not on a weekly basis. I mean I go to the grocery store every Saturday, but that definitely does not bring to mind the word "fun"! We are going to the big city tomorrow, so I see some fun purchases in my future. I'm thinking I need to finally break down and buy a juicer. I have a bag of black grapes in my fridge from Bountiful Baskets and I just don't see myself popping them in my mouth as a snack, but if I had a juicer I could make them into jelly, and that would be wonderful. I also bought a watermelon last weekend and it is SO GOOD, but I have eaten watermelon for lunch and dinner the last three days and there is still half a watermelon in my fridge.
2. If you could go to any musical concert, what would it be?


This one is tough for me for some reason, maybe because I don't go out much anymore so I just don't think about concerts. A couple of years ago, ok almost three now-man does time fly, the New Kids on the Block, who were my first ever concert in 1990, reunited and my sweet husband was going to get me tickets to see them in Las Vegas. The holdup for me was that I was about 6 months pregnant at the time and just could not fathom being there in all my whale-ness and still have a great time, so I declined his generous offer. So now that I am not preggo, it might be more fun, but now they are touring with the Backstreet Boys who were after my boy band phase, so I'm not so interested in them.
3.
What is your least

fav

/ most

fav

house chore?
Right now my least fav chore is cleaning out the bathtub after Austin has an accident, yuck I hate cleaning poo! Is there such a thing as a favorite house chore? Does cooking count, because I love cooking!
4. W
ould

you prefer new appliances or clothes?

I'm not really a fashion diva so as long as I have plenty of clothes in my rotation I am not big on buying new clothes. I would love a new fridge, but I want to wait until we move, and then I want to invest and get a super nice fridge with all the accessories that I have always dreamed about. A new drier would be nice too since our old one pooped out this summer and I have been line drying our clothes for the last month and a half. I don't mind it so much other than I dislike the crunchiness of line dried clothes, especially the towels.
5.
Miracle Whip or Mayo?
I really go both ways depending on the application. On lunch meat sandwiches I like Miracle Whip. I put either in potato salad depending on what mood I am in and which kind of pickles I am adding, B&B pickles=Miracle Whip, dill pickles=Mayo. On hamburgers I usually do Miracle Whip if its got lettuce and tomato, but if I have a mushroom and Swiss I like Mayo.