This has been a busy and crazy week, and I need to catch my blog up. We had company last weekend, an OB visit on Tuesday, our first house viewing this morning, and I finally told my boss that I am planning to resign when I leave for maternity. Posts about all those topics to come!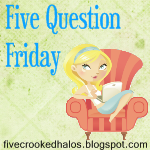 1.
Is love at 1st sight possible?
I don't think that you can truly love someone at first sight. You don't really know someone at first sight, so I don't think you can really love someone if you you don't know them. More often than not relationships don't last that claim to be love at first sight, and the ones that do make it are dumb luck in my opinion.
2. H
ow did you choose your pet's name?
I currently have no pets, but my three year old would love a dog. My last pet was a miniature rabbit and his name was Boaz from the book of Ruth in the Bible.
3. W
hat are you considering giving up (cable, home phone)?
At this point nothing. We live in the middle-of-nowhere, so if we didn't have satellite TV we would zip for channels. We have very little cell phone reception at our house because we are in a dead spot, so our pay-as-you-go phone is mostly for travel or for Dustin's work. When I am no longer working we may cut something, but at this point we are not considering anything.
4.
How much do you pay your babysitter?
Well, we don't really have babysitter. We usually trade favors with other parent friends of ours so the kids getting together is more of a play date.
The Learning Center that Austin goes to charges $24 per day or $15 for a half day and that includes all the food and drinks.
5.
How "young" is old enough to babysit?
I think it depends on how old the child(ren) is/are that are being watched. For Austin I might go with a 12-13 year old, but for a baby I would want the maturity of at least a 14 year old.
Have a great weekend!