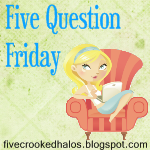 1. Are you a napper?
I am pregnant and work fultime (32 hours a week), so yes, on the weekends I usually love to take a good long nap at least one of the days. When I am not pregnant I mostly don't nap though.
2.
What was your favorite subject in school? Most hated?
Fav was science, I'm not sure I could narrow down which discipline though, for the most part I like them all.
Most hated was Intro to Electrical Engineering. I failed that beast twice before passing it, barely! I don't think it was the subject matter though, it was mildly interesting to me, it was because the stupid lazy professor only gave four tests and one final, all multiple choice for the entire grade. I SUCK at multiple choice tests and he would be really tricky about the answer choices and put the correct answer, then the other choices would be the answer if you dropped a negative sign, or made a logical mistake, so after you solve the problem and come up with an answer that is a choice you feel confident that you got it right and don't recheck your work. The third time I took it there was a new professor and he gave homework which was 10% of the grade and that helped me squeak through.
3. D
id you have the something old new borrowed and blue at your wedding? What were they?
Old:
My Mom's Dad collected coins and she has a bunch from his collection. She gave me this old 1897 Indian Head penny and it was the oldest thing I had that I could think of so I carried it in my hand during the ceremony. The year was kind of significant to me because I graduated from high school in 1997.
New:
My tiara was the only thing I purchased new. We went to David's Bridal to try on dresses and took along my earrings that I had for a while and the tiara matched perfectly so I bought it. I ended up getting my dress and veil gently used. Technially my ring was new as well.
Borrowed:
My oldest brother Kenny died in a car accident when he was 19 and my newphew Joseph was full-term still born, so I borrowed the angel pins from their respective Mothers to add to the ribbon of my bouquet so they would be there with me.




Blue:



Our wedding color was periwinkle blue with pastels as an accept. I had blue ribbons in my bouquet that my best friend Amanda and I created since we did all the flowers for the wedding ourselves.
4. W
hat one thing are you determined to do this summer
I really need to get on packing up the stuff in our office which is also my sewing/craft room. It will be our son's new bedroom so the baby can have his current room. I have to have it done by the end of June as we have friends coming to visit and I want it done by then so after they leave we can transition Austin over there and give him at least a month to adjust before the baby comes.
Other than that just keep as cool as I can through my third tri.
5. Ice cream or Popsicles?
I love them both. I would have to say though that I have to be in the right frame of mind for ice cream since it is a more substantial dessert, where a popsicle is just light and refreshing anytime.