Oh Friday how I love you! I am ready for a fun date night tonight as we drop Austin off at a friends house and attend my employee Christmas party, here I come prime rib! Tomorrow morning after I pick up my bountiful basket we are heading to the big city to finish our Christmas shopping and catch Puss in Boots. Then that evening we will go to the local Christmas festival and parade of lights.
If you are in the holiday spirit head over to My Little Life for some Christmas 5QF fun: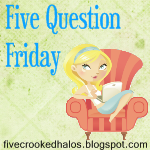 1. W
hat is your favorite Christmas cookie?
I love a lot of cookies, but there is nothing like a beautifully decorated sugar cookie. Since I love them so much each year I host a cookie baking party where we bake and decorate beautiful works of edible art while visiting and munching on yummy appetizers and sipping hot cider. My party will be on Sunday, December 18th and I can hardly wait!
2. W
hat's your favorite holiday movie & why?
Hands down my favorite is "A Christmas Story" LOVE IT! Especially now that I have an adorable round-faced, blued eyed, sweetheart of my own.
Of course I don't feel that guns should be given as a Christmas gift, which I know my father-in-law already has plans to load Austin up with a small arsenal of his own, but I hope that we can encourage those gifts to be held to a month later as birthday gifts.
3.
Is there a gift that you bought for your kids that you wish you

hadn't

after they opened it?
Austin is only two, so no not really yet. I guess along those lines there are a few toys I have purchased that ended up being duds, so along those lines there are a few, but I can't think of a specific example at the moment.
4.
What is the messiest room in your house right at this moment?
Our office, it's my sewing/craft room and a catch all for paperwork and stuff. I need to go through and clean it up and especially go and organize the closet that is about to explode.
5.
What is the furthest you have driven for the holidays?
We live FAR from our families, so we put on the miles. Its about 1,360 miles from our house to Dustin's parents house. I remember the first Christmas we made that trip we could only take off a week. We were so exhausted that we vowed to only do that trip again if we could take two weeks to do it.

We just went back there for Thanksgiving and did it in a week and a half and it was tight, but manageable. I pray that we are able to find a new job and move closer in 2012!
Also, for Christmas now we have decided to stay home and start our own family traditions, so no more crazy trips in the dead of winter for us!