Wow what a crazy week, I can't believe it's already Friday morning. Dustin lead a pack trip into a wilderness area Monday-Wednesday this week which left me alone with both kids for the first time. The days were ok because Austin went to school, but Katy still has a fussy/cry period in the evenings so it was hard to try and comfort her and still give Austin attention. I was one exhausted Mommy by the time Daddy got home!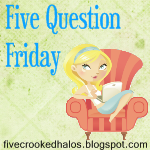 1.
Where do you hide junk when people come over?
I used to put it on our desk in our office, but that is now Austin's room and we condensed down to one small desk in our guest room. If it's just a little mail I stick it in there, otherwise now it goes on or behind the chair in our bedroom until I can get to it and find somewhere for it.
2.
Do political ads help you decide who you are going to vote for?
NO, I hate political adds! I don't think you can really count on them for being accurate, especially the PAC ads. We have been getting bombarded by them in Arizona, and they are ugly. Some of them seem so stretched that you have to wonder about how they are manipulating things to try and portray people dishonestly
.
There is one particular add here that bothers me for a women running for the House and it says she said stay at home moms leach off their husbands. Then the next add says the same quote only that she said work at home women do. So it's like they contradicted themselves and it seems suspicious that a politician would say something like that anyway.
3.
What's your favorite holiday party to host?
The only holiday party I have ever hosted is my Christmas cookie baking party. I guess sometimes for St. Patrick's Day I have had a corned beef dinner for my family, but I wouldn't really consider it a full on party.
4.
You go to an island with your husband and can only take one personal item.
What is it?
Toothbrush, if I'm getting quality time with my husband I want fresh breath!
5.
If you found out your spouse was a Dexter style serial killer (only kills people to save others) would you rat?
I guess if I knew more about this Dexter thing I might have a better answer. My husband would never murder anyone, so it's hard to even imagine, but since I believe that "though shall not kill" I would do the right thing.